Minister for Education and Youth, Hon Alan Tudge announced funding for the ARC Future Fellowship projects, which focus on areas of national priority.
A biologist and bioengineer Dr Laura Bray, from the QUT School of Mechanical, Medical and Process Engineering, received $934,478 to help improve our understanding of blood vessels.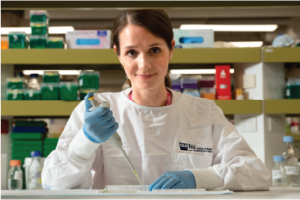 Dr Bray's research will examine the biological mechanisms that drive blood vessel formation and function in order to enable more predictive and targeted drug efficacy and safety testing.
"Increasingly we are becoming more aware that blood vessels from different parts of our body are unique, but we are not fully aware of the specific differences in blood vessels between different organs and tissues," said Dr Bray.
"My project aims to study the endothelial cells that make up the blood vessels in different organs using bioengineered three-dimensional culture models.
"The research will improve our knowledge of how the cells within blood vessels form and function within different tissue microenvironments, so this information could be used in the future to understand how these vessels may malfunction in various diseases."
Dr Bray's four-year project is due to commence early next year and will complement work in the ARC Training Centre for Cell and Tissue Engineering Technologies and QUT Centre for Biomedical Technologies.
The ARC Future Fellowships scheme supports mid-career researchers to expand Australia's knowledge base and research capacity which in turn aims to provide economic, commercial, environmental, social and cultural benefits for Australia.